U2's Bono facing tax probe after leaked documents link him to Lithuanian shopping center
November 6, 2017
U2's Bono says he welcomes inquiry by Lithuania tax authorities
November 6, 2017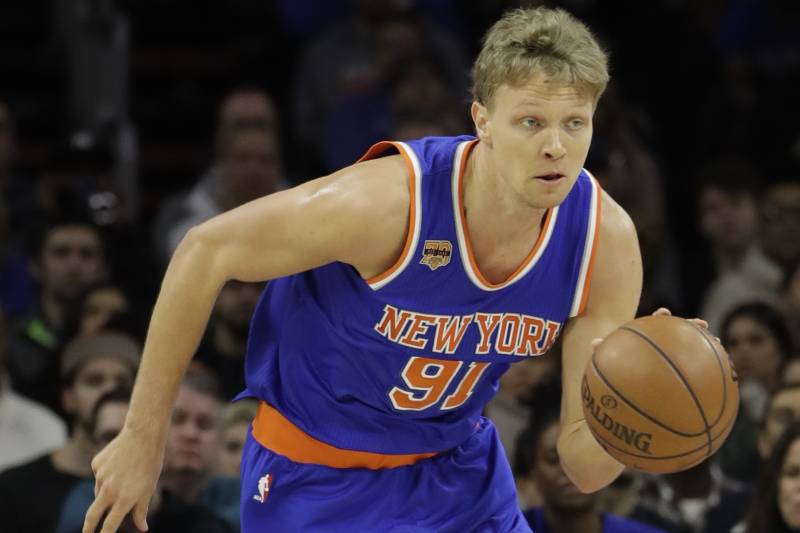 NEW YORK CITY – Not every NBA trade is worthy of front-page headlines, but many times the small moves end up making a significant difference over the course of a season.
This could be the case with Mindaugas Kuzminskas, who is reportedly on the trade block after struggling to find playing time with the New York Knicks this season.
According to Marc Berman of the New York Post, the player's representatives were gauging interest around the league for a potential trade. He noted the Lakers, Cavaliers and Hawks were among those in the hunt for the small forward when he originally signed with New York, and this interest could lead to a trade.
Los Angeles could especially be an intriguing option based on the current needs in the rotation.
Kuzminskas averaged 6.3 points per game last season in 68 appearances and is capable of shooting better than his 32.1 percent from beyond the arc he showed in 2016-17. He knocked down 36.4 percent of three-pointers at the European Championships for Lithuania, averaging 15.3 points in six contests, per FIBA.
For a 6'9″ wing who can rebound, pass the ball and score inside, this makes him a legitimate weapon.
It's also exactly what the Lakers need after struggling with consistency from deep this season. Aside of Brandon Ingram and Jordan Clarkson, the outside shot has not been reliable. This limits Lonzo Ball's effectiveness running the offense and clogs the lane for Brook Lopez and Julius Randle.
The team needs more players who can stretch the floor and bring some diversity to the offense, and Kuzminskas could be the ideal fit. He certainly still has a lot of confidence in himself despite a lack of playing time this season.
"I feel I'm right now the next two, three years is going to be my peak," he said, per Berman. "I'm feeling great physically and mentally and know I'm ready. I'm not a guy who feels good about myself but I feel I can play here. Last year I played good usually. It's really hard."
Los Angeles will be without Larry Nance Jr. for four-to-six weeks due to a fractured hand, according to Adrian Wojnarowski of ESPN. With Luol Dengalso not contributing, there is a need for someone who can play at both forward spots. Even with Kyle Kuzma as a pleasant surprise, more help is required.
Considering Kuzminskas is only signed through this season, the Lakers can likely get away with a cheap trade for that will improve the offense and not tie up the salary cap going forward.
By Rob Goldberg / Bleacher Report